The journey to the Web3
Posted on Dec 5, 2021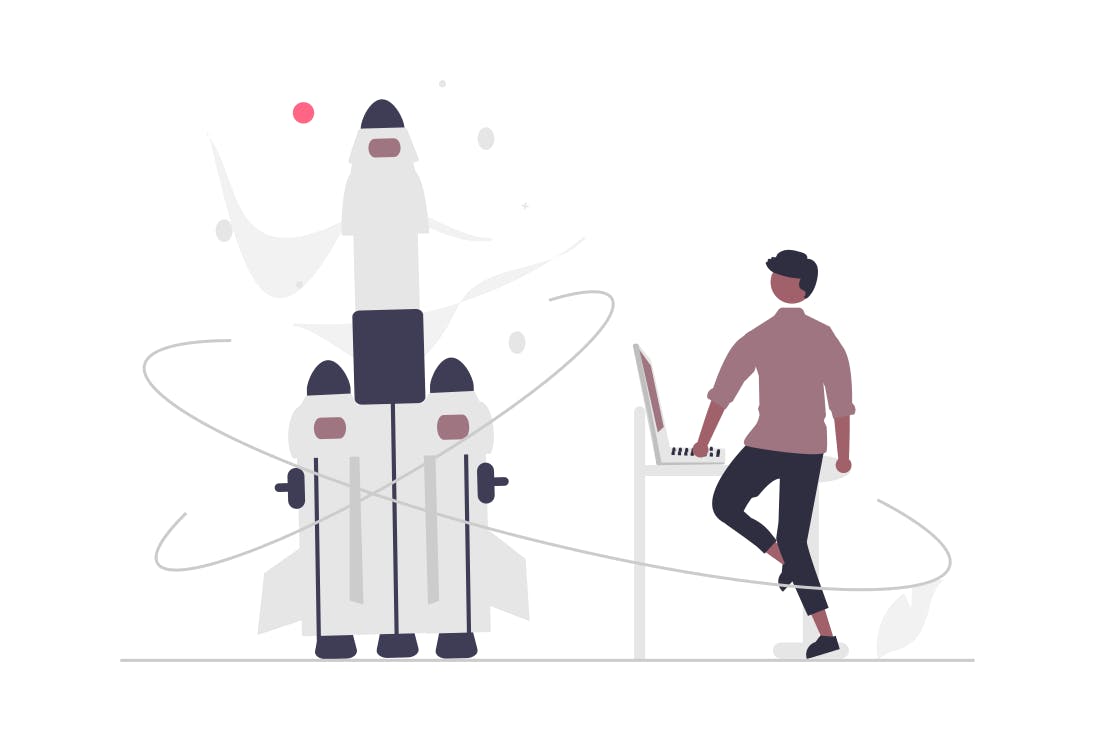 With blockchain concepts such as decentralized apps and digital ownership, we are at the cusp of something new – the revolution of the Web3. This new phenomenon is still searching for a clear definition, but a lot is already known:
Web1 user was a consumer in a read-only internet produced by companies.
Web2 user is a producer on top of the content sharing platforms owned by corporations.
Web3 user will be an owner who can take a better control over created data.
To truly appreciate what Web3 represents, we have to understand the ones before it. In the last decades, we have witnessed two revolutions in the software business: The dawn of the internet known as Web1, and the rise of centralized mass user platforms known as Web2. These movements have brought us both good and bad, but most importantly, a lot of technical layers, concepts and tools to create something even more revolutionary.
The emergence of the world wide web in the 90s formed Web1. The Internet back then was very different compared to today. The information it provided was primarily generated by traditional companies or individual website owners. Although the innovations were huge in the visions, for regular users even the barriers to accessing the internet and all this content were high.
But the increasing demand was inevitable and the popularity of internet grew rapidly. Apart from some early steps of online retail services such as Amazon bookstore, the biggest innovation of Web1 was simply to allow access to information online, anywhere, anytime. After a long history of books, newspapers, radio and television, this was more than enough to trigger an explosion.
The simple read-only Web1 was soon followed by Web2 that favoured user-generated content, interoperability, and ease of use for the end-users across the globe. By technical design, Web2 did not involve too radical changes but instead it included significant modifications to user interface design and use cases. A commendable innovation in Web2 was the introduction of social interaction and collaboration amongst its users.
Web2 spelt the age of social media and it was characterized by exciting features such as social feeds, like buttons, or friend connections. As it fostered participation amongst users, the value of Web2 services grew exponentially. The number of users increased, and so was the level of engagement on the platform. Technologies, such as blogging, tweeting, podcasting, and enterprise collaboration and many others emerged into the internet where users became producers rather than consumers.
This was all exciting at first, but over the years the realization came. Product designers that attempt to lure consumers into centralized services run the risk of the chosen few becoming a monopoly and reaping all the earnings. A loss of competition in the market was inevitable. Furthermore, in order to get more clicks for the paid ads, these massive platforms started to utilize users' data to manipulate our behaviour. This was done by feeding purposefully more polarized content on endless streams of catchy clickbaits.
Web3 is a rapidly growing set of blockchain technologies that seeks to solve the challenge of centralized services. In contrast to the Web2 user engagement concepts, Web3 shakes first the foundations on the backend of the web. The blockchain - the trust engine - has begun to evolve and provide a completely new software paradigm for web developers.
This has opened the door to entirely new concepts for tech startups: Decentralized and anonymous data flows while also being transparent and trustworthy. And, perhaps most importantly, the digital assets as well as technical layers became tangible and valuable - something that a user could actually own. When we combine these Web3 concepts with Web1 and Web2 concepts, we have the hallmarks of a revolution on our hands. Instead of being just a producer, a user can now also be an owner of the internet.
But this all takes time. The adoption began slowly, some say with only an idea written on a whitepaper of the Bitcoin. Without a global infrastructure of nodes to run the blockchain, the idea remained fairly unnoticed over decades. At least Bitcoin has been in the headlines for a decade, and also the amount of crypto users has been growing slowly yet steadily. This has enabled blockchain infrastructure to evolve.
But what was really shaking the ground was Ethereum and smart contracts. Finally, the transition from simple value creation blockchains to more advanced intelligent blockchains was able to happen. Both Bitcoin and Ethereum continued to build the global infrastructure and knowhow that later allowed even more blockchains to enter the market. This has now brought us highly potential technologies such as Polkadot, Solana, Polygon, Avalanche and other rapidly growing innovations.
We have undoubtedly evolved from Web1 of the 90s. But yet, Web3 is still in the very early stages of development. More than ten years after its inception the mass adoption can finally start. Let's not forget that approximately the same time was needed for early layers of the internet to evolve before the masses found their ways to the content and services. Only this time these layers are much more complex - which explains why it still takes years rather than months to evolve.
Consulting, coaching and interim management
Looking for an interim CTO to steer your software business to the next level? Or would you like to expand your team's knowhow with coaching or background research? I provide remote consulting to global software companies from US East Coast, UK, Central Europe and Nordics.